Martin Lodge's Workshop April 2017
Kevin G Walsh.
Brian Callan and I arrived at Martin's home at 10 to 8, Martin and a gang were outside in the yard and it looked to me like, we were dead late for an 8 o'clock workshop!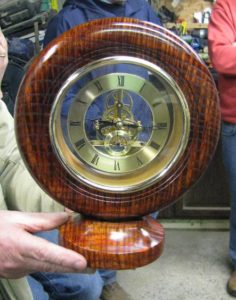 They were inspecting a number of sections of a large trunk of beech, possibly over 200 years old, which was growing up until 9:30 that morning. The bottom section was hollow, and it amazed us that a storm hadn't taken it down long ago. It was growing on land that was once part of the Kilcornan estate, Clarinbridge.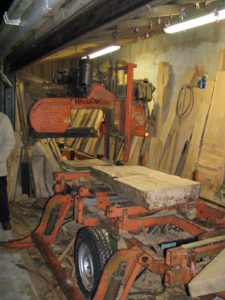 Next on the agenda was the cutting of a table top from a beautifully grained plank of beech, this beech came from the old homestead of Hugh Forde and will make a beautiful memory of home. When cut it was the maximum width of the Woodmizer, I'm guessing about 28" x 2½" thick x 48" long. I'm always impressed with the Woodmizer, it cuts like a bandsaw, but the blade is on the horizontal and its kerf is only about ⅛".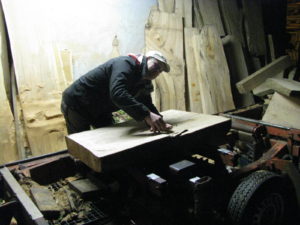 Next up was a quiz. This involved identifying various woods in plank, log, trunk or branch form. I was lucky, when asked to name a species; I immediately said 'Monkey Puzzle', a 2 mark question, others, weren't so lucky with 4 and 6 mark questions coming thick and fast, there was Holly, Apple, Laburnum, Hazel, Cherry, a unique piece of Ash, and the 64 million dollar question was on Hornbeam!
After the quiz, which was very enjoyable and informative, we then had a look at some cored bowls in Sycamore & Beech and other items that were drying nicely in the kiln. Then at a large selection of planks including ones of Ash that were destined to be cut and shaped into hurleys.
From there we moved in to the workshop. Martin had planned to demo how to turn the frame & base for a skeletal clock and Sean Winterlich's plan was to show us how to turn a wall mounted key holder, incorporating an old 20p coin & a horseshoe! But the lathe had other ideas, try as we might; turning switches, pressing buttons, rotating knobs, nudging resets, and of course plug it out, count to 10 and plug it in again, we couldn't coax it to start.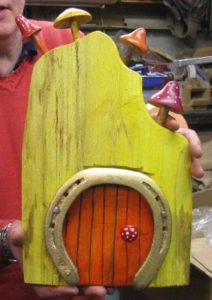 So we adjourned for the tea! Una was ready for us, pouring out tea & coffee and we had an array of sandwiches, cakes, biscuits & buns to choose from. Perfect, thank you Una.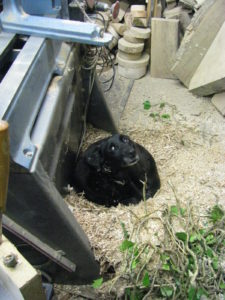 During the tea break, all the talk was about the lathe, conspiracy theories were rampant. It boiled down to three culprits! Some reckoned it was Martin, they said he had enough done out in the yard and behind our backs put a spanner in the works. Others believed it was Sean, he had a bad day and thought the demo would go all wrong and so gave us the slip during the quiz and fouled the workings of the lathe. The above two theories proved to be 'Codology' and the third theory, the correct one, which I believed, blamed the Dog! All present should think back to that night, before we arrived the dog was sleeping at the back of the lathe on a deep cushion of dry shavings, as we rambled in, in one's and two's he awoke, put two & two together and said to himself, the riff-raff are two months early, this usually doesn't happen until May!
I must act swiftly or I'll be done out of my bed and be turfed out into the cold. As quick as a flash he got a Philips screwdriver, whipped off the cover of the terminal box (it was right beside him at the back of the lathe!) swapped the Red & Black wires, replaced the cover, hid the screwdriver and pretended sleep!
The result of all this was that Martin & Sean were left with a much tougher task than doing the demo, both went on to explain in great detail, how the pieces are made from start to finish and then produced finished articles. First Martin showed us a beautifully coloured Ash piece, dyed with many colours, the most dominant being Honduras Red Mahogany. Sean had a large selection of pieces with different size & shaped horseshoes and pyrographed wall hangings, including a great one of John Wayne, all brilliantly made.
Well done lads.
Thanks again to Martin, Sean and Una for a lovely night.