Galway Chapter visit to Liam O'Neill's Studio, May 2018 by Ambrose O'Halloran
Liam O'Neill is 50 years turning this year.  Liam has demonstrated woodturning all over the world and his pieces are held in some of the most prestigious collections. To understand a little about his work, you need to understand some of his journey.  Kilkenny Design Workshops were set up in 1965 and John Sheil had spent time there with the Dutch designer, Maria van Kesteren.  Maria van Kesteren came to Kilkenny Design Workshops in late 1965 and stayed for 18 months.  Her role was to design prototypes which would then be put in production for the UK and USA markets. Jim Holohan was the only woodturning apprentice at Kilkenny design and later left to design and make moulds for Galway Crystal in 1971. Keith Moss and Ciaran Forbes also spent time in Kilkenny Design workshops at this time.  After leaving Kilkenny Design, John Sheil then set up a design led production woodturning business in Bagnelstown to produce Kilkenny Workshops designed objects.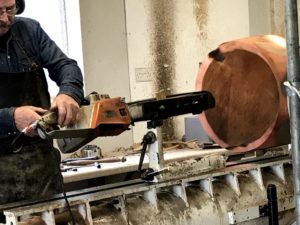 Liam O'Neill was born and raised near Bagnelstown, Co Carlow.  Having left school early, he had worked in a number of jobs with little prospects.   When Liam was 19 years old, local businessman, John Sheil, offered him a woodturning apprenticeship.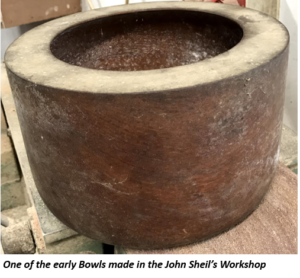 After finishing his four-year apprenticeship Liam went to work for George Galbraith who also had a woodturning production workshop in Abbeyleix producing bowls for Habitat in the UK.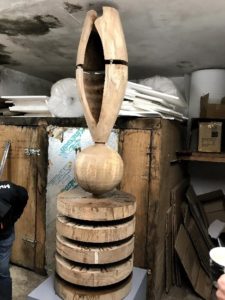 Liam then developed and ran a woodworking program at Retos, a rehabilitation centre for adults with special needs in County Clare, while continuing to develop his own ideas and skills. In 1980 he attended the Woodturning Symposium at Parnham House, the John Makepeiece School for Craftsmanship in Wood, in Dorset, England.  Here with Ciaran Forbes, he was exposed to the work of David Ellsworth, Richard Raffan, Ray Key, and Jim Partridge, among others. This was a seminal event for the participants and indirectly led to formation of the Irish Woodturners Guild (IWG) the American Association of Wood turners (AAW) and the Association of Woodturners of Great Britain (AWGB).  Each of these organisations were formed independently with slightly different focus and structures. In 1983, funded by the Dr. Muriel Gahan Scholarship, Liam went to the USA and spent time with David Ellsworth, Ed Moulthrop, Rude Osolnik, Al Stirt, Dale Nish, Mark and Mel Lindquist.
Liam's wife Cathy is a native of Spiddal and in1992 they moved from Shannon to Spiddal.  Since then, besides his production bowl turning, Liam has developed his large scale chainsaw "lathe" made outdoor sculptures.  Over the years Liam has demonstrated for the Galway Chapter at various seminars and this was our third visit to his studio.  This visit was not such much formal demonstrations from start to finish rather an overview of the various techniques that Liam uses to produce the variety of work he does.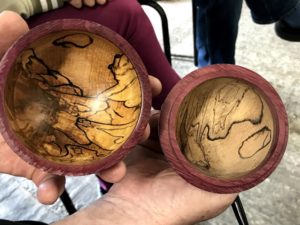 We started off with Cathy providing coffee, ably assisted by Christy – Liam's long-time friend. Liam started his first demo of a "crooked grain" spalted beech box.  The feature that Liam puts into this box is putting in a cross grained hardwood ring in this case purpleheart into the long rain box. To achieve a clean parting to the lid and base Liam's used a fluted 3mm parting tool which he fluted on one side on the grind stone. This meant that there is minimal loss of wood and that perfect grain matching.  To stabilise the wood to be able to get a clean cut Liam puts a lot of 3408 Parafix CA Glue by Parsons Adhesives in the USA.  When hollowing out the final inside shape, it meant the wood was now hard enough to take a clean cut.  To finish the box, Liam applied Liquid paraffin follow by a coat of Shellawax.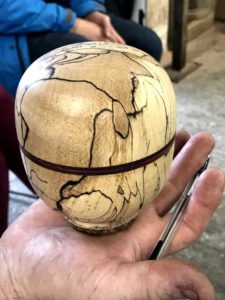 As a professional turner Liam had always been developing techniques and methods of working. From the development of the swept back bowl gouge grind to the use of the chainsaw to create large scale sculptural works.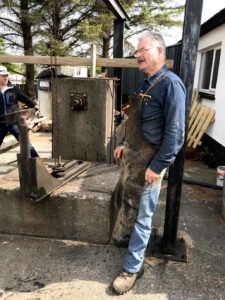 We went outside to look at the large concrete lathe that Liam uses for his large sculptures.  Liam said he has seen one of Ed Moulthrop bowls displayed in his backyard on a trip to the USA in the 1980's.  He had known that the Hawaii turners had built concrete lathes, he was aware that Lindquist's had used chainsaws to texture large pieces.  All of this information came together out of necessity when on a trip to Germany in the 1990's he used a mounted chainsaw for the first time to "turn" wood.  When he started to develop his passion for large outdoor pieces usually made from Redwoods, he built his large outdoor lathe constructed from concrete.  The lathe does have a motor, but in practice, the pieces are hand rotated onto the tool rest mounted chainsaw.  We then went back into the workshop, where using an electric hoist, Liam mounted a large redwood bowl blank onto the Oneway lathe. Liam demonstrated truing up the outside of the bowl and then talking out the inside with the electric chainsaw.  When working with Redwoods he gets rid of all the sapwood because that would rot when exposed to the elements.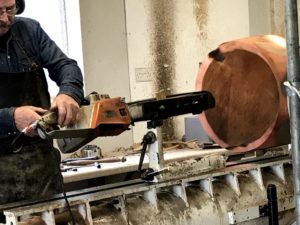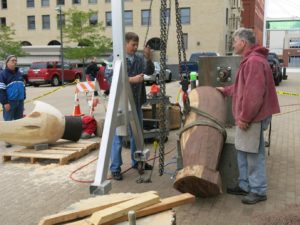 Figure 10 Liam at the Figge Museum 2014
Liam has made public sculptural works which are on display in Ireland and the UK. In 2014 he went to the Figge Art Museum in Davenport Iowa where a version of his concrete lathe was constructed.  Over the course of 14 days, Liam turned a large throne for the Lobby of the Museum.
Liam then took one of his production bowls from the kiln and showed how to find the centre of a distorted bowl using a carpenter's square.  The blank was then mounted on a faceplate and trued up outside and inside and the final shape was refined.
After lunch Liam put up one of his large platters which had been rough turned and kiln dried. He refined the rim but to add interest to the piece, using a divider, he marked a series of centric rings
He then cut groves using a swept back spindle gouge.  This ensured the base of the rings had a curve.  The sides of the groves were rolled over to beads.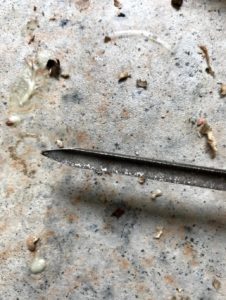 We finished the day having a look at finished work in the gallery and looked at large sculptural pieces in his garden.
To be able spend time with someone who has worked at his craft for 50 years is always a privilege.  Thank you Liam – it was a great day
Ambrose O'Halloran