Kevin's Nutcracker
Kevin Walsh's October workshop was again up to standard (his standard-way above the norm), his workshop the envy of us all, plenty of space, all the gear, everything in it's place and not a speck of dust to be seen. For this workshop Kevin decided to make something seasonal (as it was Halloween) a nut cracker.
He started by showing a dimensioned sketch (Pic 01) of the finished article and describing the various parts and potential causes of problems in the making (having had a few previous trial runs). Timber used was Beech throughout except for the threaded piece which was Boxwood as this threads easily and keeps the thread.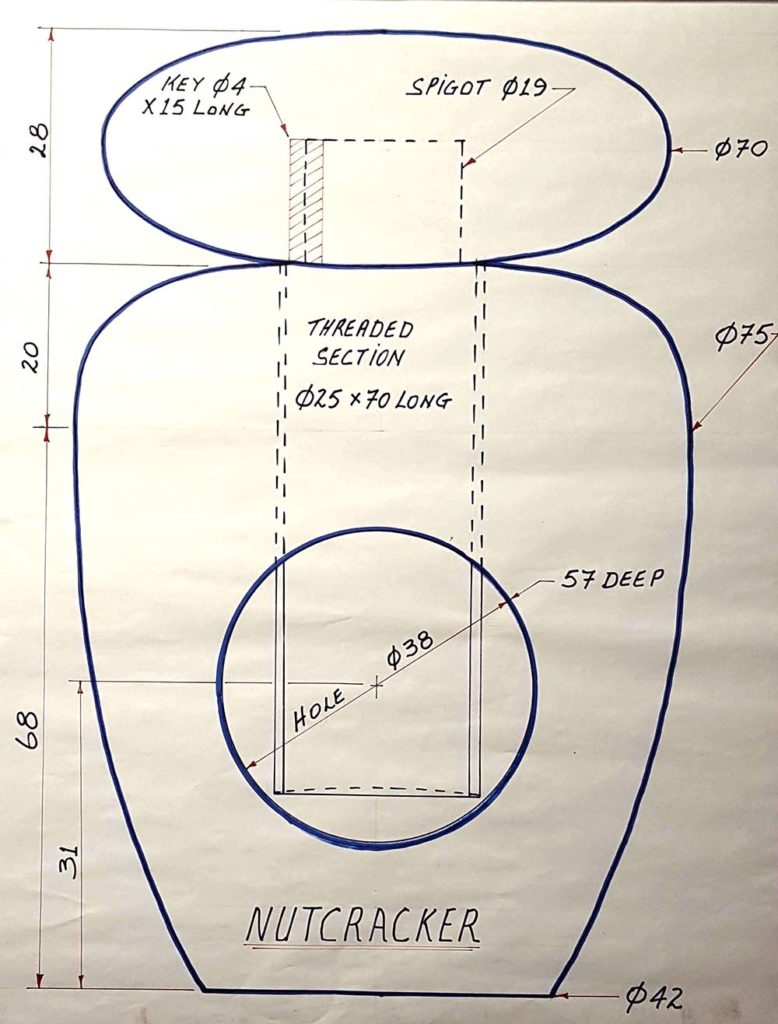 To start, a 38mm diameter 75mm deep hole is drilled in the square blank (easier to hold)  of the body which is then turned between centres to the desired shape (Pic 02), then the hole was drilled to suit the size of thread (Pic 03) followed by chasing the internal thread (Pic 04) and finally parting off.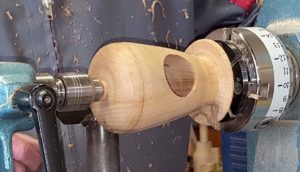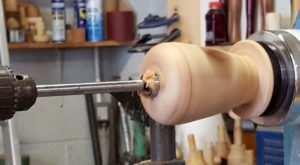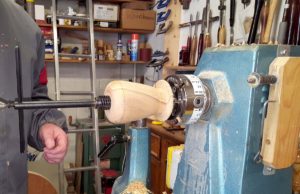 Kevin then decided it was time for a break & we retired to the kitchen where Margaret was waiting with kettle boiled and an amazing selection of goodies which she had been up all night preparing and took only 30 minutes to devour, rested and fed we returned to the workshop.
Next the top section was turned to round and a spigot turned on one end (Pic 05) which was then held in the chuck and the bottom squared off, a hole was then drilled to receive the spigot on the threaded piece after a small hole was drilled centrally on the circumference to take 4mm diameter brass key (this key will be half in the top section and half in the threaded section to prevent the top from 'slipping' on the threaded section when turned under pressure) (Pic 06).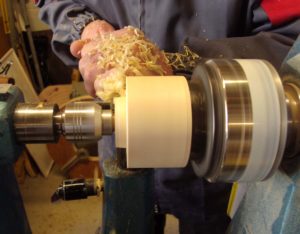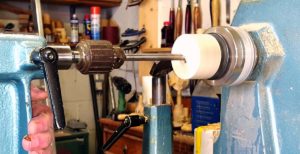 The top was then turned around, fitted on a jam chuck and finished off (Pic 07).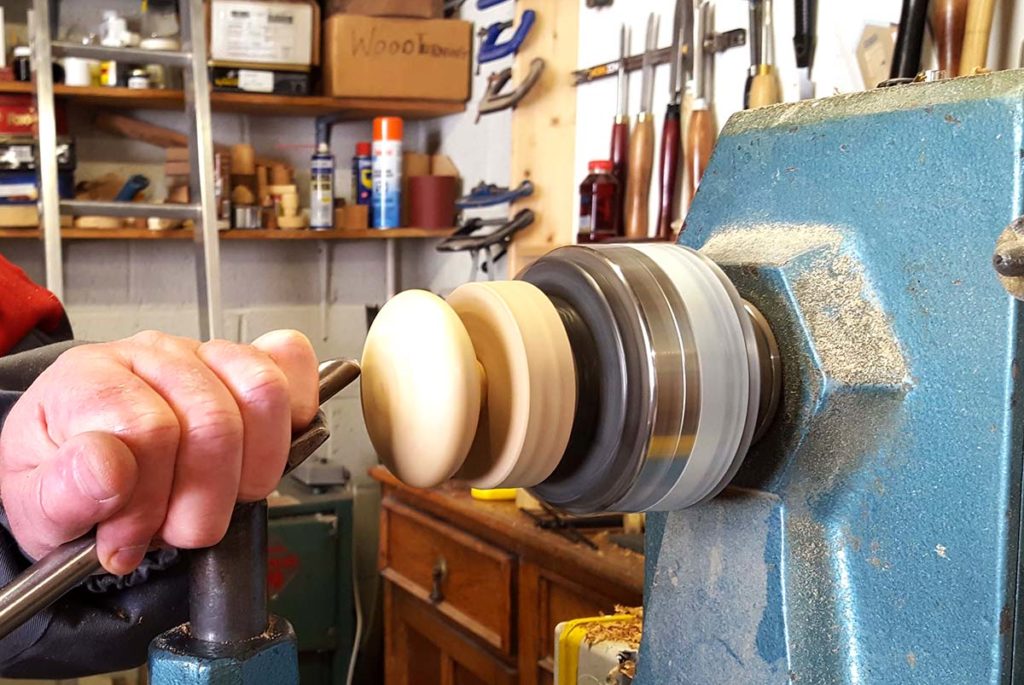 The threaded piece was next – this was mounted in the chuck and turned down to the diameter suitable for threading, the end was slightly dished to hold the nut and the edge chamfered to help when starting the threading, the thread was then chased the desired length (Pic 08 & 09).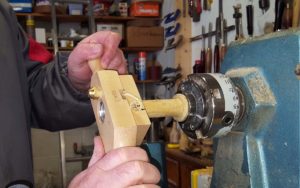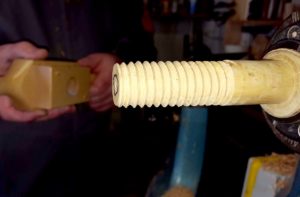 The piece was then remounted on a pre-threaded jam chuck and the spigot turned down to suit the hole in the top piece  (again after the hole was drilled for the key located centrally on the circumference) and parted off. With all three pieces finished it was a simple matter to fit them together to produce the final nutcracker (Pic 10).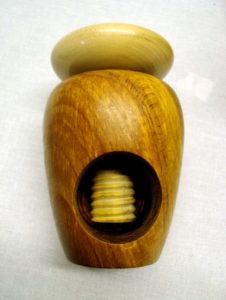 For a finale Kevin handed out a number of previously turned nutcrackers and a variety of nuts for us to crack which showed how versatile and sturdy they are. Thanks again Kevin for a most informative and practical workshop and Margaret for all her work.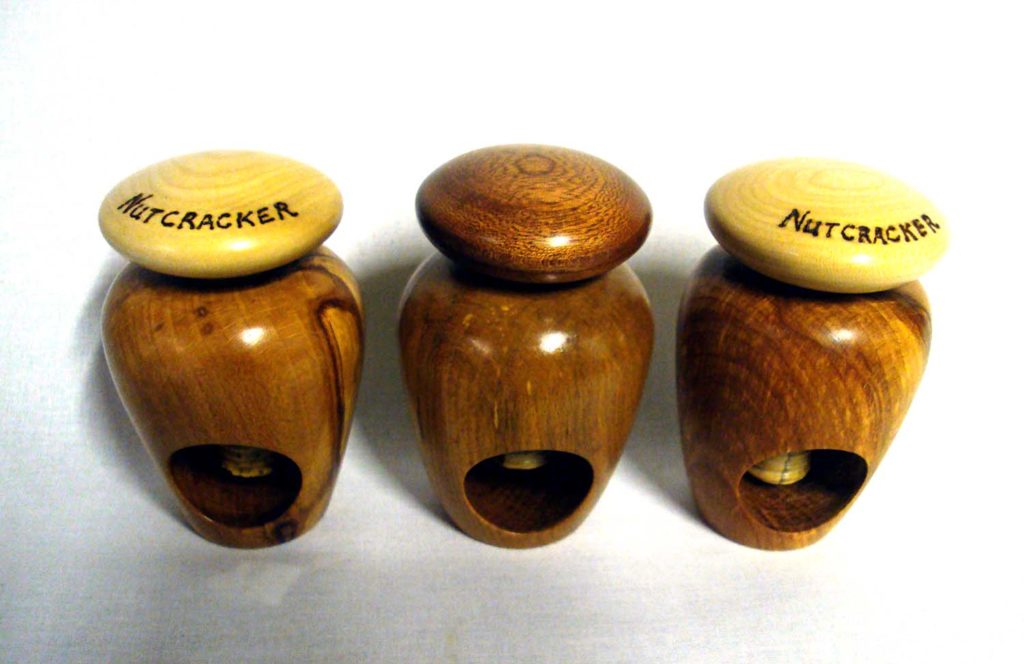 Pic  11. Some other nutcrackers on the way to the ballet